CASE STUDY: Medical Device Manufacturing Transfer out of China
Clients are facing rising costs and import/export issues with medical device production in China. VEM Medical helps companies with an expedited manufacturing transfer of plastic injection molding and assembly projects from China – where costs continue to rise – to Thailand with supply chains intact.
Situation before transfer
A U.S.-based company manufacturing medical products in China had seen its production costs continue to rise, quite dramatically, over the past couple of years.
In addition, the import of raw materials and components into China was difficult and slow. The company investigated moving injection molding and assembly operations to the U.S. or Mexico. However, the majority of their medical component suppliers were in China, which made a move out of Asia more difficult.
Requirements for the medical device manufacturing transfer
The client requested lower costs, the use of only approved suppliers, and a desire for easier import/export of raw materials and components.
Further requirements included an ISO 13485 operation with a Class 8 cleanroom for molding. Additionally, an in-house tool shop for easy repairs and engineering changes should be available.
The client needed a support team in China that could check the quality of the molds. Furthermore, they needed to handle all logistics to move production from the old supplier to the new manufacturing location.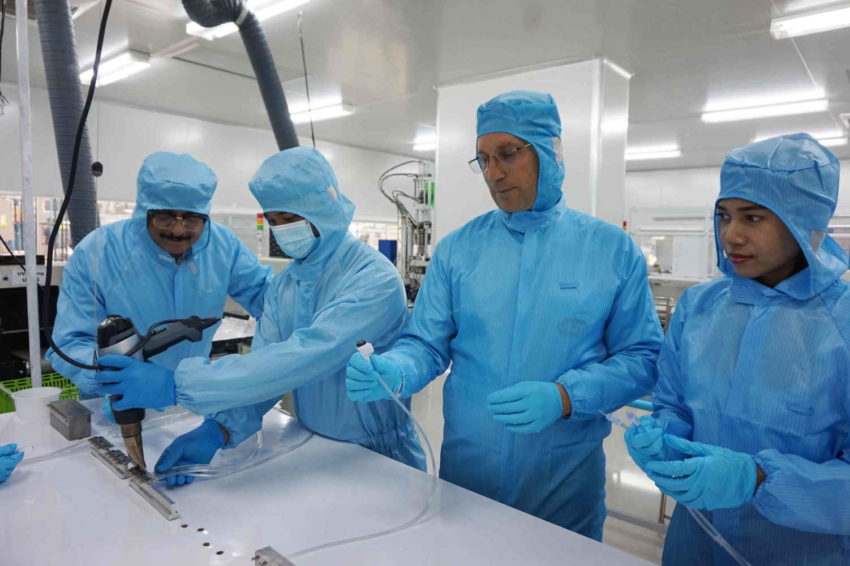 Did we get you interested? Talk to our experts.
Manufacturing Transfer Solution
VEM proposed a production transfer of plastic injection molding and assembly operations from the supplier in China to VEM's ISO 13485 certified facility in Thailand. This facility is equipped with a Class 100,000 cleanroom.
VEM has been manufacturing medical devices in Thailand for 13 years. The operation is located 30 minutes from Thailand's largest shipping port called Laem Chabang.
A local project team in China and Thailand handled all the logistics, setup, and handling of the existing suppliers as well as the transfer of the tool.

End results
In anticipation of the move, the customer ran extra production in order to stock up on parts and cover supply for the period of manufacturing transfer.
The customer gave VEM permission to transfer the tools from the previous supplier. The full production transfer from China to Thailand was completed in 5 weeks plus 1 week of transit time. Consequently, the customer's project was up and running in 6 weeks.
The customer now produces their medical devices at VEM Thailand at a lower cost. Moreover, the Import of raw materials is smoother than before as well as the export of products out of Thailand. Supply was not interrupted, and the customer was rewarded with a significant cost savings.
What drives VEM's success is its diverse work environment that brings different cultures, languages, and ideas into the company allowing them to better serve clients. VEM continually embraces new technologies and focuses on software for efficiency improvements to deliver flexible and full-service manufacturing.
Keeping up with the market needs, VEM invests in high-end equipment, 3D steel printing, and the latest manufacturing and systems software.
Partnering with VEM Medical in Thailand